In this blog, we will explain the benefits of improving your processes using Netadmin Nine Ticket Management capability.
Modeling processes in Netadmin Nine
Every company follows a set of processes that define their business. In the fiber business, those processes define how customer orders are handled, installations scheduled, and how incidents are resolved. This involves a lot of data that should be documented and used in a standard way.
The Netadmin Nine Ticket Management capability supports customer processes involving user interaction by modeling each process as a ticket flow. It includes a graphical user interface to draw the flow with a set of steps and actions. With ticket flow, the user can follow the process instead of having to guess which actions should be taken and when.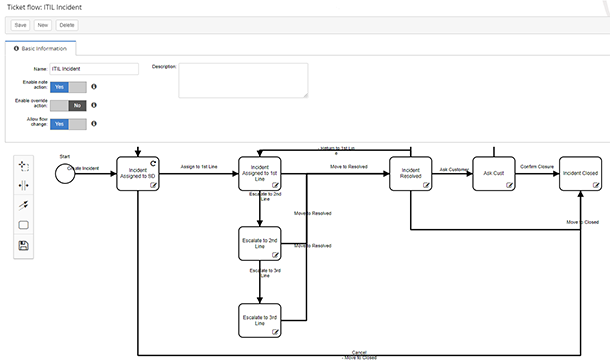 Processes that could be modeled in Netadmin Nine Ticket Management:
Service order capture

CPE installation

Patching / depatching work orders

Incident reporting

Escalation between departments (e.g., 1st line support to 2nd line)

Customer communication
Customized user experience
Netadmin Nine Ticket Management can be customized with ticket templates. Ticket templates are plugin-based views that allow full customization of individual ticket flow action.
A ticket template might include specific fields and questions that users must fill in when processing a ticket. This makes it possible to guide the user to follow the process, which can also be followed up by reporting.
The template could also fetch information from other systems in real-time and give the service desk user full view of the customer without having to combine data from multiple sources.
Examples of ticket templates:
Predefined questions for customer service

Checklists for troubleshooting

Combined information about customer and network status

Possibility to execute operations on external systems

Documenting costs and work done by contractors

Categories for reporting
Visualizing problems
Tickets can be filtered in the ticket dashboard so each user can focus only on the tickets they are interested in. Multiple filters can be configured to easily switch between different ticket types. When tickets are created on physical objects with coordinates such as subscriptions or installation addresses, they can be visually shown in Netadmin Nine maps (requires the GeoMaps Add-on). This can be useful for customer service to locate network problems and visualize affected users in specific regions.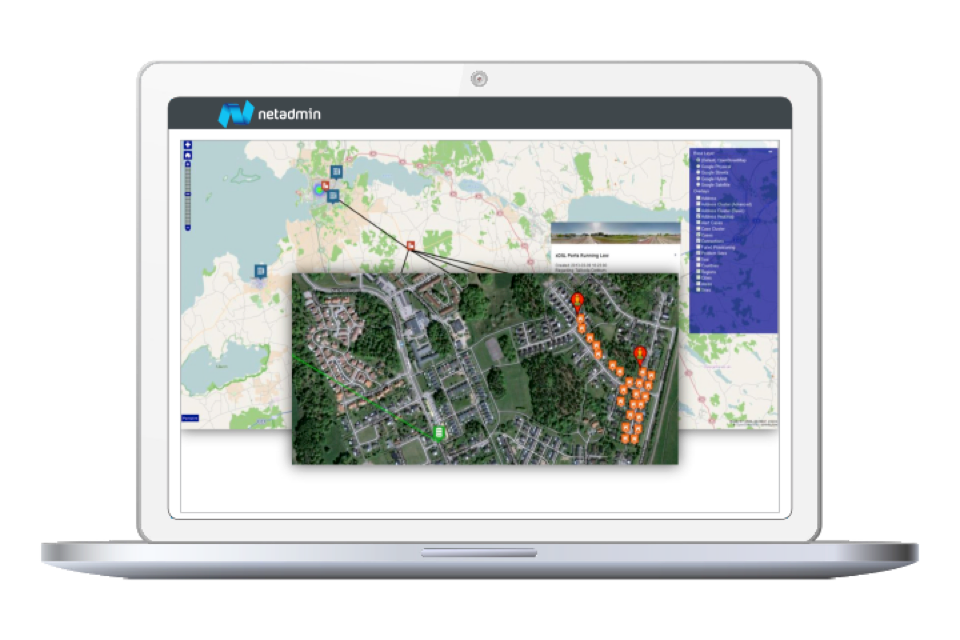 Netadmin Nine offers a separate interface for service providers, which can be used to communicate between the service provider and network owner. Ticket flows make it easy to separate the actions between different parties. It also makes it possible to visualize who is responsible for handling the issue.
Reporting
Reporting is an essential part of the processes. Without follow up, it is not possible to tell if the process is working as it was intended. Feedback also leads to improved methods when faults are discovered. For reporting to be consistent, the collected data needs to be structured and clean. To achieve this, the available options are often predefined in the ticket template. The tickets can then be filtered by labels or more customized reporting.
The Netadmin Nine API can be used to integrate ticketing to an external reporting system as well. This might be preferred when reporting data is collected from several systems.
Ticket SLA Add-on includes reports to follow breaches of SLA during ticket flow. SLA tracking can be used to improve customer service and the work done by external contractors.
Conclusion
Netadmin Nine has been designed for the many needs of the fiber business. It supports flexible process modeling with ticket flows and fully customizable user experience with ticket templates.
So if you want to improve your customer service and streamline the way you work, there are plenty of possibilities ready to be used.