Netadmin ist ein speziell entwickeltes Produkt für Glasfaserbetreiber, die ins Geschäft mit Glasfasernetzwerken
einsteigen

wollen.
Die Automatisierung ist der Grundstein unseres Produkts, und wir wollen sicherstellen, dass Sie sich um Ihre wichtigsten täglichen Geschäftsabläufe am wenigsten kümmern müssen.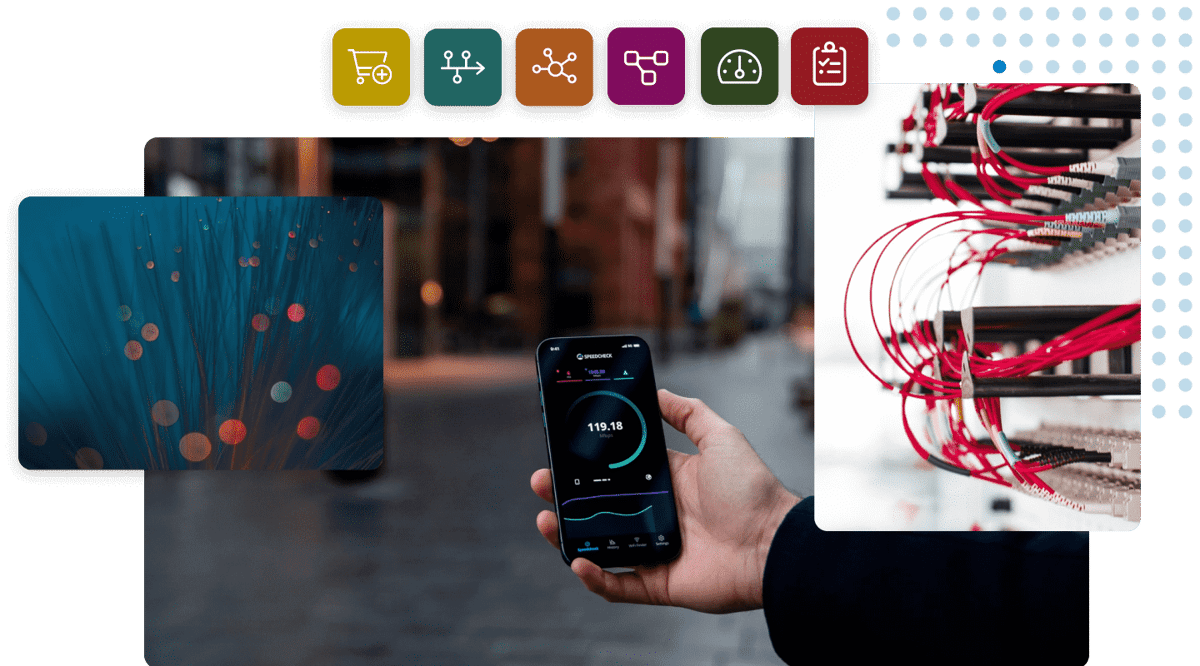 Das bietet Ihnen Netadmin.
Nedamin unterstützt Ihre Customer Journey.
Kundenservice-Module
Eine Plattform, um Kundenwünsche zu erfüllen.
Die Bereitstellung von Breitbanddiensten ist einer der wichtigsten Prozesse für Sie als Betreiber. Mit wachsendem Kundenstamm steigen die Betriebskosten für die Bereitstellung von Diensten exponentiell an, wenn sie manuell oder ineffizient erfolgt.
Vorteile mit Netadmin Nine.
Mit einer Kombination aus intelligentem Netzwerkdesign, organisatorischen Voraussetzungen und Supportsystemen.

Vollständige Automatisierung der Abwicklung des Kundenservice.

Fully automate customer service fulfillment.

Anbindung großer Kundenzahlen ohne Aufstockung des Personals, wodurch die Kosten niedrig gehalten werden.
Kundenerwartungsmodule
Eine Plattform, um die Kundenerwartung zu managen.
Der Breitbandmarkt ist hart umkämpft, und um die Kundenabwanderung zu minimieren, ist es unerlässlich, Ihren Kunden ein hervorragendes Erlebnis zu bieten.
Vorteile mit Netadmin Nine.
Bieten Sie Ihren Kunden ein besseres Erlebnis mit Self-Service.

Höhere Servicequalität.

Reduzierung der Bearbeitungszeit von Anfragen.

Langfristige Nachhaltigkeit.
Add-ons UND integrations
Eine Plattform, um Ihre Glasfaserreise zu managen.
Gemeinsam mit unseren Kunden arbeiten wir kontinuierlich an Innovationen und der Weiterentwicklung unserer Lösungen in Form von Add-ons und portalen.
''Use of Netadmin solutions has led to higher revenue, minimized OPEX and time to market''
''Netadmin solution enables our customers to quickly and easily get direct access to our service offering''
''Netadmin solution has helped us to free up time for the technology department to focus on more complex technical problems''.
Johan Odensåker, Network Manager
''Netadmin solution has proved to be effective and delivers an excellent solution that underpins fiber deployment''.
Sind Sie
startklar?
Ist Ihr Unternehmen auf der Suche nach einer Komplettlösung, um Ihr Glasfasergeschäft zu automatisieren und auszubauen? Sprechen Sie mit einem Experten, um zu erfahren, wie Ihr Glasfasergeschäft mit Netadmin ein voller Erfolg werden kann.